A small, dark kitchen becomes a bright, open space
Private Home in Østerbro, Copenhagen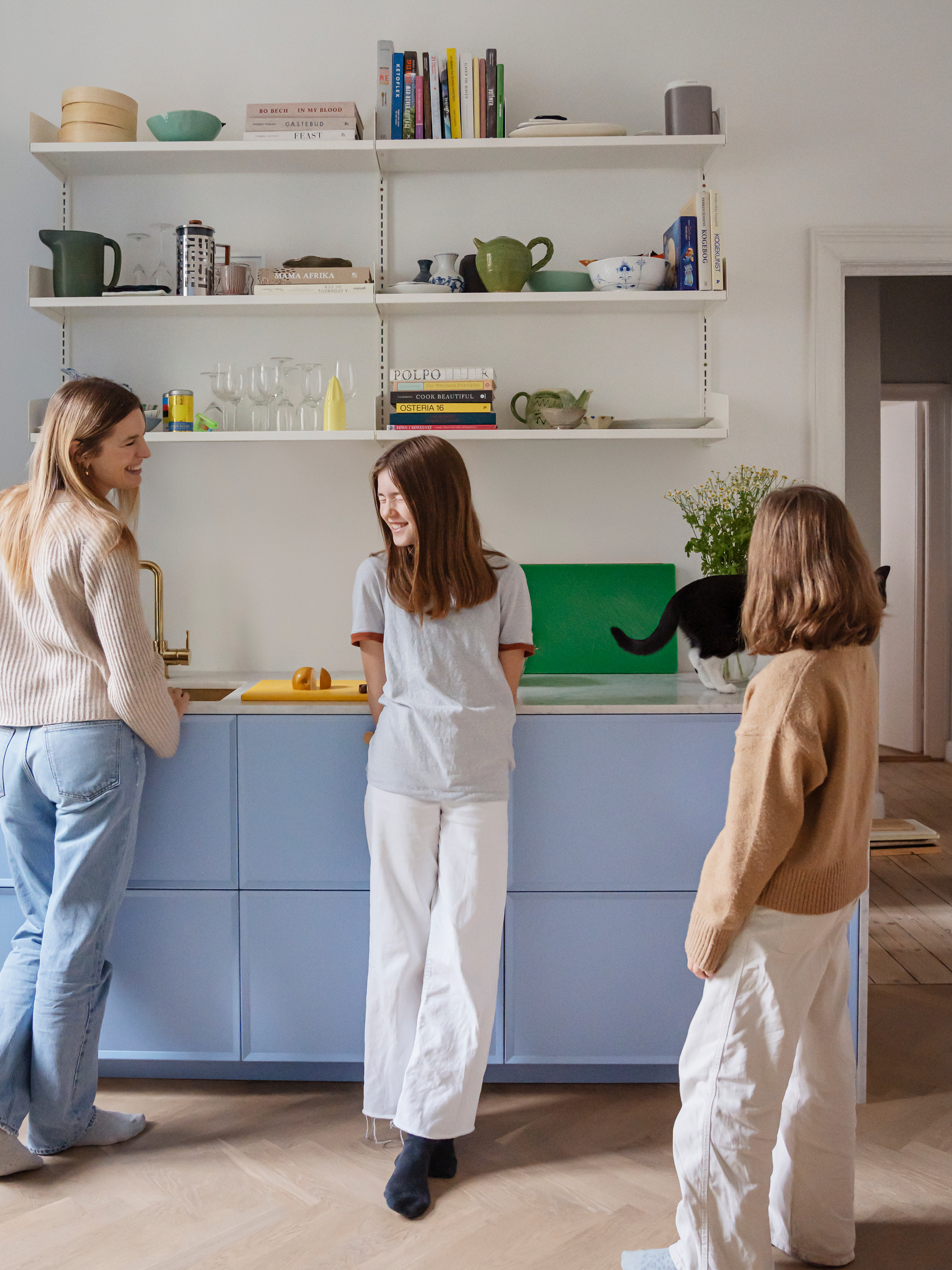 Journalist and press manager at Politikens Forlag Christina Zemanova's family home is a 200 square meter apartment in Østerbro, Copenhagen. The kitchen's layout is a true galley-style, with a cooktop, oven, and wall cabinets on one side, and the sink, high built-in fridge, freezer and dishwasher on the other. In its previous iteration it was dark and felt small. In improving their kitchen, Christina's top priorities were creating a brighter, more open space, and also having an inviting place with enough counter space to make it possible to cook with the kids. New seating was included in the kitchen plan, offering the opportunity for more activities in the kitchen such as the kids doing homework, and room for guests to relax while the family is cooking. Christina noted that having materials that age well and are durable is key to creating a kitchen that will be functional for years to come.

Christina and her family chose the FRAME collection painted in blue, as well as a Bianco Carrara marble countertop. The marble countertop is also used for the sides of the kitchen, replacing the FRAME cover panels. Christina felt that the FRAME painted wood was both a great natural, long-lasting material, and also could be changed if desired – after all, a coat of paint isn't a big project! The grain of the wood is visible through the paint, which Christina finds charming. Most of the cabinets feature a push-to-open solution for an ultra-clean look, with the addition of the FRAME handle in brass in a few places. The sink and faucet have matching brass details.

Because the kitchen is the smallest room in the home, optimizing storage and light is key to making the space functional and inviting. Christina notes that since updating the kitchen and adding the FRAME collection made it feel more inviting and a place that she actually wants to spend time. The open shelving in the kitchen contributes to this, highlighting items that keep the space feeling personal. Overall, the FRAME kitchen collection has brought a sense of playful color and cohesion to what was once a dark room. As a result, the kitchen gets more use, and brings Christina and her family an immeasurable amount of joy.