Rebekka Bay's kitchen blends into the existing architecture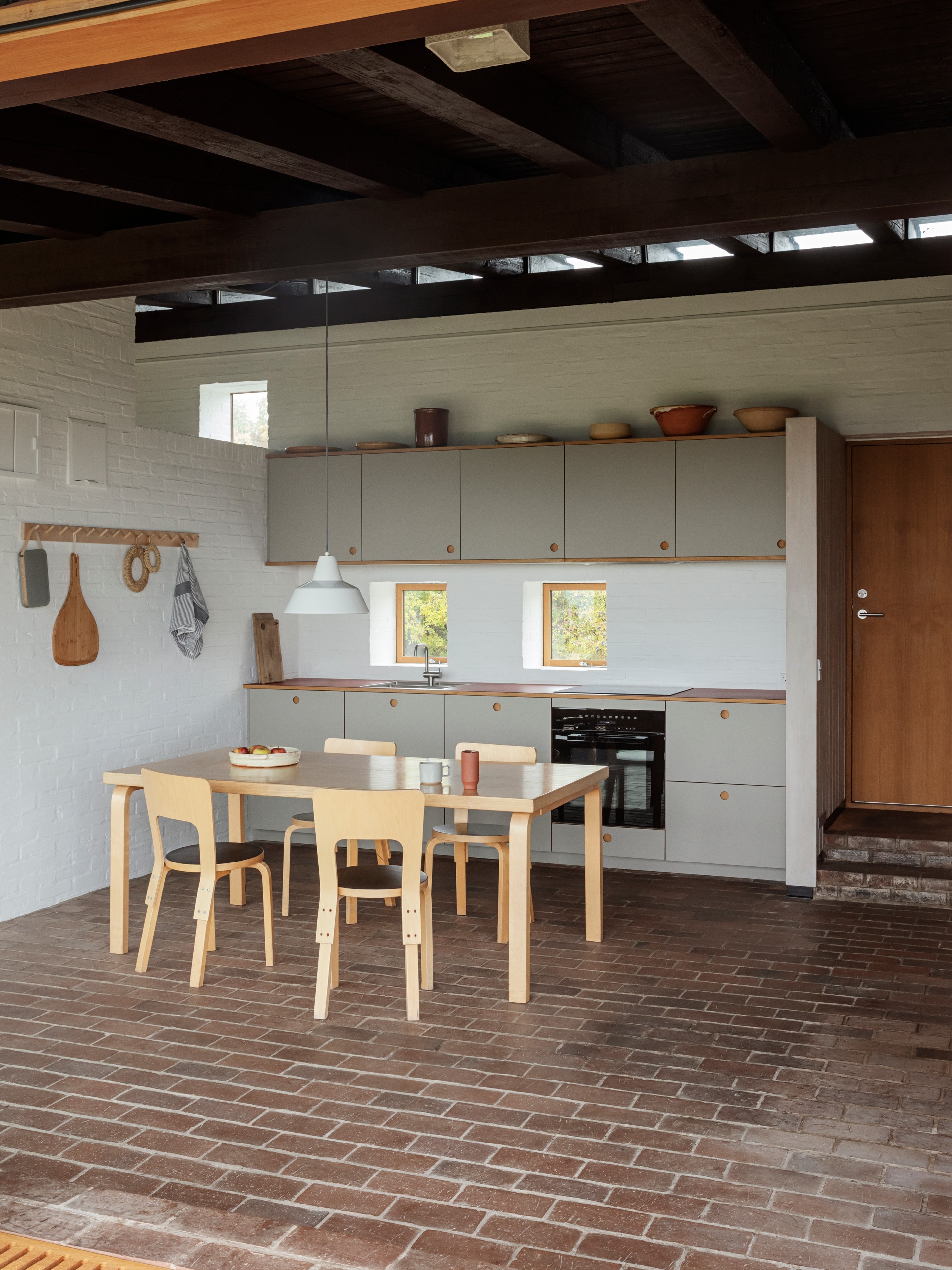 WHO: Rebekka Bay, Chief Creative Director at Marimekko, and Ricky Nordsøn, Furniture Agent for Warm Nordic and Mazo
LOCATION: Summer House in Mols National Park, Djursland, Denmark
KITCHEN: BASIS collection

Rebekka Bay, Ricky Nordsøn and their teenage son's Danish summer house was built in 1972. The house has many similarities to the Friis & Moltke houses designed around the same time, leading to speculation that their house was created by an architect who worked at the Friis & Moltke Architectural Studio. The main house is 120 m2, with an annex of about 40 m2 and a wooden deck of 170 m2. The house has an open plan, with the kitchen taking up about a fifth of the house.
The kitchen is at the center of most activities. It opens to the garden and the ocean. Rebekka and Ricky wanted to respect the original architecture and layout of the house, so the new kitchen is in exactly the same place as the old kitchen. They have incorporated the hallway to be utilized as a pantry and fridge area, which frees up more surface space in the kitchen.

"We decided on the BASIS kitchen in Pebble with a linoleum table top in Salsa Red, as it looks closest to the original house. The intent was always to install a new kitchen that doesn't look new. We are huge fans of Alvar Aalto and liked how the kitchen references the mix of wood and linoleum that can also be seen in our vintage Alvar Aalto dining table, chairs, and stools. The light is coming through the big windows overlooking the ocean, so we wanted a color on our fronts that would not change much based on the changing light of the day and season. The red countertop is both a nice reference to the original, very colorful, kitchen, but also to our love of Alvar Aalto, Prouve, and Perriand. For the hallway fronts that are visible from the kitchen, and the bedroom wardrobes that are visible from the hallway, we chose a dusty blue color that references the former cobalt blue paint on the fronts. It also offers a sense of calm in the overall color scheme of the house that fits the surrounding nature." – Rebekka Bay

The house is built with few materials: wood, brick, chalked walls, and a color scheme that connects each area of the home. When deciding on the materials and colors they wanted to add to the space, it was important to utilize as few materials as possible, ensuring that the integrity of the home is respected.